Wednesday, January 23rd, 2008
February 2007, Ehab and I discussed our frustration at the lack of Arabic teaching podcasts. There were many for other languages but not for Arabic. That's when we discussed the notion of an ArabicPod, and so we agreed on a recording date. Unfortunately, we didn't manage to find a decent microphone on time; nevertheless we made do with what we had.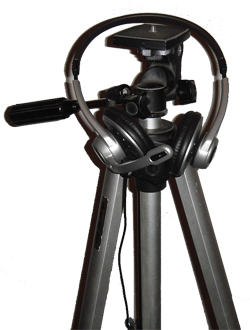 We set up a tripod and hung a pair of headphones on it, we then connected it to the laptop, placed our chairs at the ready and recorded our very first lesson, "How are you?". At first we were a bit hesitant about releasing the lesson on the website, but after sending it to a few friends and receiving good feedback, we made the decision to use it. You can probably tell that the quality of the first lesson isn't as good as the others. Fortunately, we had our new microphone, "Samson SP01", delivered by the time we recorded the next lesson.
We hope for ArabicPod to become the leading source for learning Arabic on the Internet. The website will provide much more than lessons; needless to say, we hope to make learning the language "an entertainment" by not only providing MP3 podcasts, but videos, games and more. Above all, our success depends on you. We understand that there would be no need for an ArabicPod.net if there were no users, and that's why we would be grateful if you spread the word. Tell your friends about it. Submit reviews on iTunes or write about it on your blog.